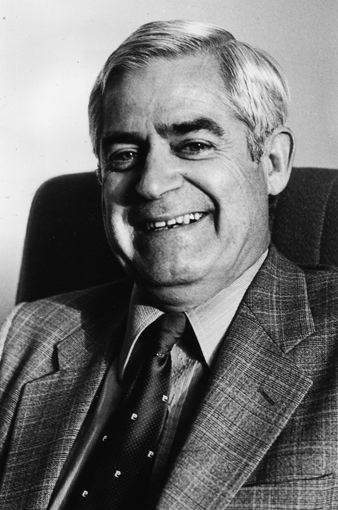 David M Cockburn OAM, HonDSc, Councillor of the Victorian College of Optometry
Sub-Category:
Photograph People and events
Time Period:
1940 to 1999
Description Of Item:
Four black and white and one colour photograph of David Michael Cockburn OAM DSc, a life member of the College. (1) 127 mm W x 90 mm D with David Cockburn at a white board explaining gonioscopy and diabetes to Dawn Odgers, an optometrist and a member of the College. (2) 120 mm W x 90 D. (3) 90 mm W x 144 mm D (pictured). (4) 12.8 x 18.4 mm. (5) colour photograph 92 x 99 mm.
Historical Significance:
Dr Cockburn was foundation Chairman of the Board of the National Vision Research Institute 1971 to 1988 and foundation Chairman of the Board of Continuing Education 1976 - 1992. He was a distinguished clinical teacher and researcher for over 30 years and was a central figure in the fund raising that enabled the NRVI to be established. He was awarded an honorary Doctor of Science by the University of Melbourne, the first awarded to an optometrist by the University See also Cat No 12 for his portrait. See his profile Clin Exp Optom 2003; 86: 1: 57-62 also on this web site under the tab 'People who made history'.
How Acquired:
Record of VCO
Location:
Archive office. South wall. Cube 5 Album 1