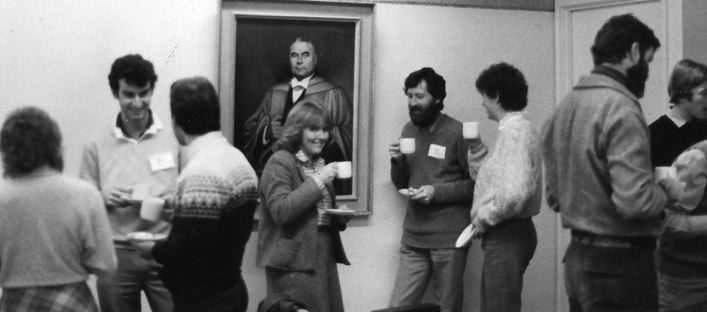 Members of the Victorian College of Optometry at a continuing education meeting in the Amies Theatre of the College
Sub-Category:
Photograph People and events
Year Of Publication/Manufacture:
c 1980
Time Period:
1940 to 1999
Place Of Publication/Manufacture:
Melbourne
Description Of Item:
Black and white photograph 126 mm W x 56 mm D of College members drinking coffee before or during a break in a College continuing education meeting. The photgraph was taken in the Amies theatre in its original form in the 1960 building. Facing the camera at centre are Rhonda Beer and Gordon Talbot. Tony Gibson is on the right (with beard). The portrait is of Sir Arthur Amies. President of the College 1945 to 1969 (see Cat No 6) painted in 1966.
Historical Significance:
The College introduced a formal program of continuing education for its members in 1976. The College Council formed a Board of Continuing Education at its meeting on June 9 1975 and the first annual program was offered in 1976. Previously there had been only the occasional conference. The College with the OAA Vic Div had run the Southern Regional Conference every 2 years. From 1976 there was a planned prgramme of courses (four in 1976) and ten monthly evening lectures called the Technical Meetings. The first CE Board comprised David Cockburn (chair), Barry Cole, Kate Doherty, Alan Every, Brian Flynn, Anthony Gibson, Alan Isaacs and Damien Smith.
How Acquired:
Record of VCO
Location:
Archive office. South wall. Cube 5 Album 1