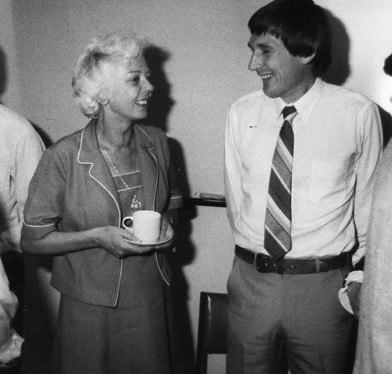 Jean Colledge with Peter Milhinch at a continuing education meeting in the Victorian College of Optometry
Sub-Category:
Photograph People and events
Year Of Publication/Manufacture:
c 1976
Time Period:
1940 to 1999
Place Of Publication/Manufacture:
Melbourne
Description Of Item:
Black and white photograph 140 mm H x 88 mm D depicting Jean Colledge, Secretary of the College, and Peter Milhinch, a member of the College, at a continuing education function.
Historical Significance:
Jean Colledge was appointed Secretary of the College in 1964 at the age of 36 having had experience in the corporate world in Melbourne and London as secretary and what these days would be called personal assistant to senior executives. At the time there were only two other full time staff, Barry Cole and Barry Collin, so in addition to being the Secretary to Council and Chief Financial Officer she was also clinic receptionist. Over the next 40 years she was very much involved in the rapid growth of the College: its expanding clinic, the starting of the Victorian Eyecare Service, the Low vision Clinic at Kooyong, fund raising for and the establishment of the NVRI for which she negotiated the property purchases (see cat no 389) . She was awarded the Public Service Medal( PSM) in the Queen's Birthday honours list in 1990 for her contributions to the public good through the development of the College and was made an honorary life member of the College on her retirement in 1994. Peter Milhinch was in private practice of optometry and much opposed to the College establishing eye clinics in Community Health Centres, especially the one located near his practice in East Preston. His opposition was sustained and did much to strain relations between the College and the Victorian Division of the Australian Optometric Association for a long period of time.
How Acquired:
Record of VCO
Location:
Archive office. South wall. Cube 5 Album 1