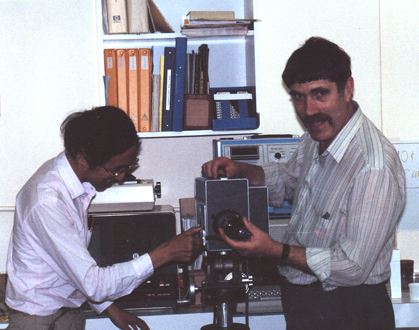 Dr George Smith, Associate Professor
Sub-Category:
Photograph People and events
Year Of Publication/Manufacture:
Early 1990s
Time Period:
1940 to 1999
Description Of Item:
Three colour photographs 151 mm W x 100 mm H of Dr George Smith, pictured in his laboratory with a Spectra-Pritchard photometer and his PhD student from China, Mr C W Lu
Historical Significance:
Associate Professor George Smith (1941 - 2008) was a physicist who did his PhD in Reading University specialising in optics. He came to the University of Melbourne as lecturer in 1975 although he taught optics part time in the optometry course for several years before joining the full time staff. He taught optics to optometry students at a very sophisticated level and also supervised some PhD students, notable among them being David Atchison, who pursued a research interest in optics. He was promoted to senior lecturer and associate professor and retired in 2005 after 30 years' association with the College and the profession of optometry. See his CV and other biographical paper at Cat No 615.
How Acquired:
Record of VCO
Condition:
Good. Original photo is under exposed
Location:
Archive office. South wall. Cube 5 Album 1