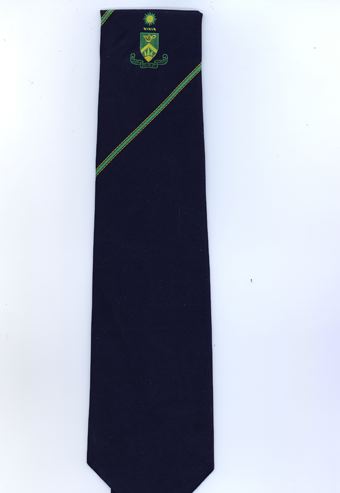 Category:
Memorabilia and ephemera
Institution:
Victorian College of Optometry
Year Of Publication/Manufacture:
c 1985
Time Period:
1940 to 1999
Place Of Publication/Manufacture:
Melbourne
Publisher/Manufacturer:
Hollygreen
Description Of Item:
100% polyester neck tie, dark navy blue with two diagonal green and yellow stripes and the crest of the College
Historical Significance:
The College had as one of its goals the promotion of high standards of practice and of ethical and professional conduct. It had a code of ethics and professional conduct to which it urged all members of the College to adhere. In 1985 it excluded a member for a breach of professional standards, notably in this instance, for working for a dispenser when the Registration Act required the control of optometric practices to be in the hands of optometrists. In the same year it introduced a Fellowship of the College, where Fellows had to have had a year of experience in practice, to undertake at least 10 hours of continuing education a year and to adhere to the Colleges codes of ethics and professional standards. Fellows were entitiled to the affix FVCO and there was also a Fellows tie.
How Acquired:
Donated by Barry Cole, Fellow of the College
Location:
Archive room. West wall. Unit 3 Drawer 1