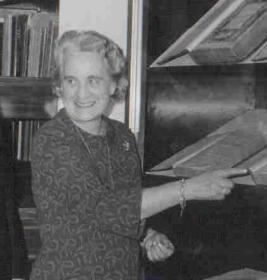 British Optical Association Library Catalogue Vol III
Sub-Category:
Book of historical note
Editor:
MITCHELL Margaret
Year Of Publication/Manufacture:
1957
Time Period:
1940 to 1999
Place Of Publication/Manufacture:
London
Publisher/Manufacturer:
British Optical association
Description Of Item:
Original green card cover, 255 pages. A few of the rare books are illustrated.
Historical Significance:
This is the third volume of the BOA catalogue and adds books that came into the collection since vols I and II were published. Miss Margaret Mitchell (pictured) was the BOA Librarian for many years serving under George Giles and eventually took over the bulk of the day-to-day running of the museum as well. She was greatly respected for her subject knowledge and was responsible for writing several articles about the collections and delivering external lectures that raised the museum's profile on the international optometric stage. In particular, drawing partly on the work of the BOA Fellow, Walter Gasson, she was one of the first to outline the problems with traditional accounts of the invention of spectacles. In 1982 Margaret Mitchell wrote a History of the British Optical Association 1895-1978 which includes an entire chapter devoted to the museum.
Location:
Archive room. East wall. Books of historical note