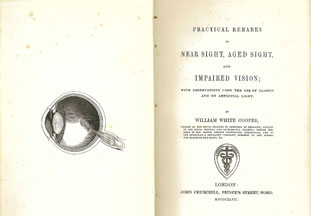 Practical remarks on near sight, aged sight, and impaired vision with observations upon the use of glasses and on artificial light
Sub-Category:
Significant book (Aitken collection)
Author:
COOPER William White (Woodcuts by W Bagg)
Year Of Publication/Manufacture:
1847
Place Of Publication/Manufacture:
London
Publisher/Manufacturer:
John Churchill. Prices Street Soho
Description Of Item:
Original brown embossed cloth cover, 205 x 130 mm, with modern clear plastic protective wrapper, 216 pages, 2 frontispieces and 22 figures in text. Bookplate on front pastedown for J Alexander Pierson. Tipped in is a modern post card of the bookshop in Canterbury from which the donor purchased this book.
Historical Significance:
Dr William White W Cooper (1816-1886), was an eminent London surgeon-oculist, After studying at St. Bartholomew's Hospital, London, he became M.R.C.S. in December 1838, and F.R.C.S. in 1845. His notes of Professor Owen's lectures at the College of Surgeons were published after revision, under the title of 'Lectures in the Comparative Anatomy and Physiology of the Invertebrate Animals,' in 1843. He succeeded in the practice of John Dalrymple and gained a large practice. He was one of the original staff of the North London Eye Institution, and subsequently ophthalmic surgeon to St. Mary's Hospital, Paddington. He was a careful, steady, and neat operator, and judicious and painstaking in treatment. In 1859 he was appointed surgeon-oculist in ordinary to Queen Victoria, whose sincere regard he gained (Court Circular, 2 June 1886). It was announced on 29 May 1886 that he was to be knighted, but on the same day he was seized with acute pneumonia, of which he died on 1 June 1886. He published a number of books but this was the only one on ophthalmology. Chapter II deals with myopia, Chapter III with presbyopia. Chapter IV is about lenses and glasses. There are four appendices one of which deals with abnormal colour vision. This book is a good reflection of knowledge refractive errors and attitudes to glasses in the mid 19th C.
How Acquired:
Donated by Michael Aitken, honorary archivist
Condition:
Near mint, minor wear
Location:
Nathan Library. Aitken collection