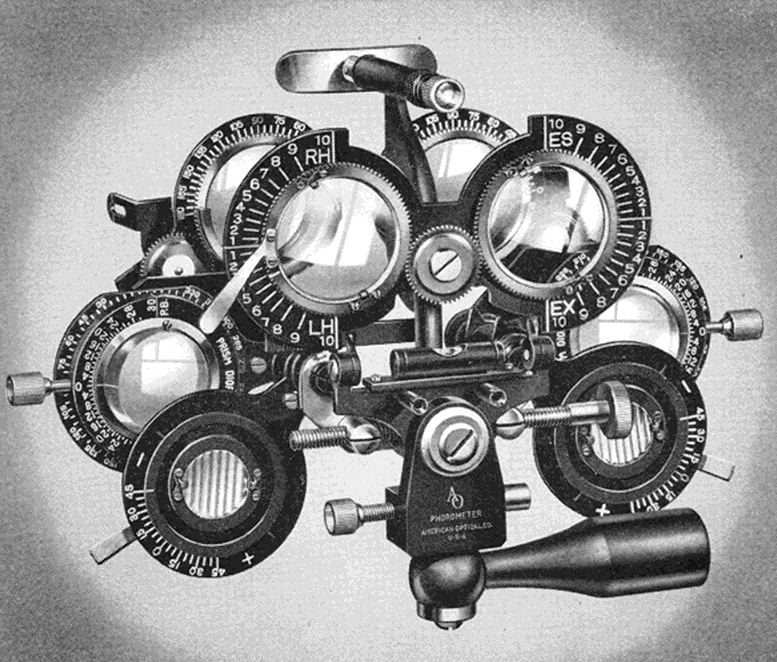 Sub-Category:
Manual, for instruments etc
Corporation:
American Optical Company
Year Of Publication/Manufacture:
1944
Time Period:
1940 to 1999
Publisher/Manufacturer:
American Optical Company
Description Of Item:
Original green printed card wrappers, 28 pages, 12 figures in text, frontispiece picture of the AO phorometer No 560 (pictured). This is an instruction manual for the use of the phorometer.
Historical Significance:
The phorometer is a mounting for lens cells (as in a trial frame), rotary (Risley) prisms, Maddox rods and the Stevens' phorometer with a supporting horizontal rod below the level of the eyes for attachment to a supporting stand. It is the forerunner of the refractor head or phoropter, which has spherical and cylindrical lenses mounted on discs, and cross cylinders, in addition to the devices on this phorometer. The Stevens' phorometer uses the prism dissociation method of measuring heterophoria and was devised by Stevens in 1888. the method itself being devised by v Graefe in 1867. Maddox had devised his Maddox rod in 1890 (as the single rod). See Maddox's books in this collection Cat No 107. 206. 207 and 504 dating from 1898 to 1915. George T Stevens (1866-1904) was an eminent New York ophthalmologist who is especially noted for his nomenclature of motor anomalies and for his devices: the phorometer, clinoscope, clinometer, and tropometer.
Location:
Archive office. Pamphlet and ephemera filing cabinet. Drawer 1