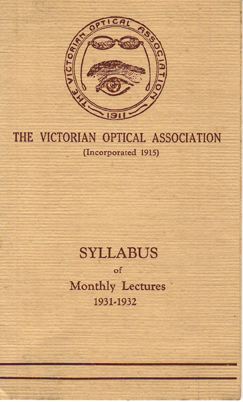 Syllabus of monthly lectures, 1931-32, 1932-1933, 1933-34, 1934-35
Category:
Memorabilia and ephemera
Sub-Category:
Conference & continuing education programs
Association:
Victorian Optical Association
Year Of Publication/Manufacture:
1931 to 1934
Time Period:
1900 to 1939
Place Of Publication/Manufacture:
Melbourne
Publisher/Manufacturer:
Victorian Optical Association
Description Of Item:
Single fold cards, 85 mm x 144 mm when folded, titled 'The Victorian Optical Association (incorporated 1915). Syllabus of Monthly Lectures' with the date and the VOA crest is on the front page. Inside are the dates and titles of the lectures and the lecturers. In 1931-32 there is also advertised a Post Graduate Course of 21 lectures the fee for which was 4 guineas ($8.40). The others advertise the VOA's library. On the back of each are the names of the VOA Council and office bearers. They are in a cardboard box (not original). There are 2 or 3 copies of each year, except 1931-32. One copy of the 1932-33 syllabus as the seal of the VOA on it.
Historical Significance:
These syllabi demonstrate the early commitment of the profession to continuing education. Cyril Woodford Kett JP FBOA FSMC FIOO FVOA is listed as the President and Howard S Bell FVOA as the Vice President on each of the Syllabi. The lecturers include: C W Kett JP FBOA FSMC FIOO FVOA, who trained in England; Howard S Bell FVOA; W Matthaei (who was microscopist in the Botany Department in the University of Melbourne), HS Spencer FVOA; HS Latimer FVOA; GTL Humphrey; JK Cumberland FVOA; E Goetz (who was trained in Jena in Germany and was a pioneer of contact lenses in the 1930s); WF Johns FVOA; WE Occleshaw FVOA; R Hogan FVOA; R Werner FBOA, FSMC (trained in England); H Barklet (a meteologist), NG Jarvey FVOA; Dr Thomas Nelson MD MRCP(Lond) Government bacteriologist; EH Jabara FSMC, FIO (trained in England). Their subjects were: vascular changes in the retina; colour vision; the microscope; myopia, embryology of the eye, the third nerve; perimetry; ophthalmic instruments; muscle balance; retinoscopy; artificial eye making (given by A Schler from Laubman and Pank Adelaide); accommodation; absorption; frame fitting, phorias; optic neuritis and papillitis; strabismus; accommodative convergence; eye lid disorders; dynamic retinoscopy; amblyopia, psychology, ocular nerves, reflex movements and stereopsis.
Location:
Archive office. Pamphlet and ephemera filing cabinet. Drawer 1