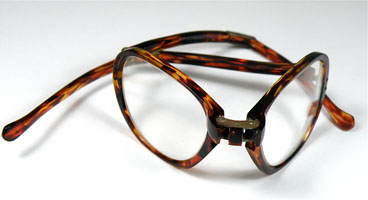 Harvette tortoiseshell folding spectacles
Category:
Spectacles and lenses
Sub-Category:
Spectacles folding, scissors glasses
Designer/inventor:
Gerald Henry Wingate
Year Of Publication/Manufacture:
1931
Time Period:
1900 to 1939
Place Of Publication/Manufacture:
United Kingdom
Description Of Item:
Imitation tortoiseshell folding frame glazed with plano glass lenses. The bridge is double-hinged with two metal hinges and both temples are likewise double-hinged at their midpoints to enable the spectacles to be folded completely to a very small size (65 X 35 mm) . The temples are marked on the inside 'HARVETTE PAT NO 357677'
Historical Significance:
UK Patent 357677 for 'Improvements in or relating to folding spectacles' was applied for on 14th July 1930 by Gerald Henry Wingate of 15 Wigmore Street, Cavendish Square, London. The patent was published on 1st October 1931.
How Acquired:
Donated by Bruce Dudon, spectacle maker, Woodend
Date Acquired:
April 2013
Location:
Archive Office. Spectacles cabinet Drawer 13