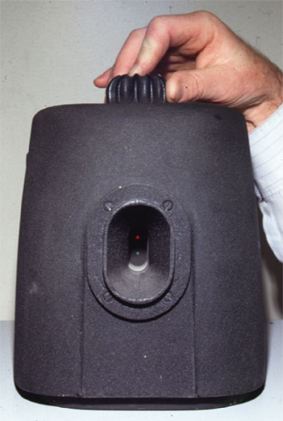 Farnsworth lantern (New London Lantern)
Sub-Category:
Colour Vision Test
Designer/inventor:
FARNSWORTH, Dean
Year Of Publication/Manufacture:
c 1951
Time Period:
1940 to 1999
Place Of Publication/Manufacture:
New York
Publisher/Manufacturer:
Macbeth Corporation
Description Of Item:
Metal black crackle case containing an incandescent light source and a rotating cylinder holding 9 pairs of red, green and neutral filters. The cylinder is rotated by a knob on the top so that patients are presented red, green and white signal lights in vertically separated pairs. There are 9 positions presenting all possible combinations of red, green and white in the pairs. Instructions for use are on a metal plate on the back of the instrument. It was contained in a timber box 45 cm L x 25 cm W x 31 cm H with a hinged lid probably made by the Australian Dept Civil Aviation for transportation of the lantern around Australia, The box contains the 220 v to 100v transformer and has type written instructions for use on the front side. Lantern only, on display in Aitken Gallery.
Historical Significance:
Lantern tests are designed to test the ability of people with abnormal colour vision to recognise signal lights and are used by rail, maritime and aviation authorities. The Farnsworth lantern was devised in 1946 by Dean Farnsworth to determine if applicants for entry into the US Navy who had abnormal colour vision could distinguish maritime signal lights. It was not the first lantern test. The first was the Edridge-Green lantern devised by UK ophthalmologist Edridge-Green in 1891 (Cat # 430) followed by at least 7 others to 1943. Farnsworth worked in the Medical Research Laboratory at the US Submarine Base in New London, Connecticut. It was developed to overcome faults in the earlier lanterns due to poor ergonomics or lack of thought in choice of colours. It was first manufactured in 1951 and became widely used in the Armed forces and by Civil Aviation in both the USA and Australia, and is still in use although it is now being replaced by the Optec 900 lantern (Stereo Optical Company), which replicates the Farnsworth lantern but with better engineering. This lantern was given to the College by the Australian Dept of Civil Aviation because the College took over testing pilots and also did a great deal of research of lantern tests in the 1980s funded by the Dept. See Cole BL and Vingrys AJ Amer J Optom Physiol Optics 1982; 59: 346-374.(Cat No 571) for more information.
How Acquired:
Purchased by Victorian College of Optometry, formerly held in colour vision clinic of the College
Location:
Archive room. West wall. Unit 1 Overhead display