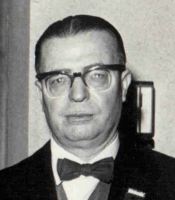 The practice of orthoptics
Sub-Category:
Book of historical note
Year Of Publication/Manufacture:
1949
Time Period:
1940 to 1999
Place Of Publication/Manufacture:
London
Publisher/Manufacturer:
Hammond, Hammond and Co Ltd
Description Of Item:
Original dark blue cloth, 407 pages, 67 illustrations. DE-ACCESSIONED 20/10/14
Historical Significance:
De-accessioned in favour of a copy in better condiiton See cat No 2504. This was a standard optometry textbook on orthoptics for optometry students in the 1940s and 1950s. See other books by Giles in this collection including the first edition 1943 (Cat No 195) and its predecessor A manual of practical orthoptics 1938. Cat No 196. George Giles OBE FBOA FSMC DOrth (1904-1965) was a prominent figure in UK optometry and was the Secretary of the British Optical Association from 1941-1965). He was made an Honorary Life Member of the Victorian College of Optometry when he visited in 1955. At various times he was Senior Examiner of the BOA; Senior Staff refractionist, Senior Orthoptist and Lecturer at the London Refraction Hospital; consultant to the Incorporated Thames Nautical Training College (HMS "Worcester"); Registrar of the Joint Council of Qualified Opticians; Technical Adviser to the London Optical Company; Honorary Secretary of the West and North West London and Middlesex Local Association; member of the General Optical Council; President of the International Optical League; a Fellow of the American Academy of Optometry; a Fellow of the Illuminating Engineering Society; Fellow of the Royal Microscopical Society and an Ernest Aves Medallist. He also qualified as a barrister of Lincoln's Inn. Giles edited the Dioptric Review and The British Journal of Physiological Optics. He co-designed the Giles-Archer Colour Vision Unit and various orthoptic instruments.
How Acquired:
Ex Nathan Library