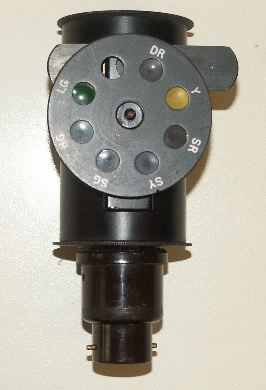 Giles Archer lantern test (Aviation model)
Sub-Category:
Colour Vision Test
Designer/inventor:
George H Giles
Year Of Publication/Manufacture:
c 1942
Time Period:
1940 to 1999
Place Of Publication/Manufacture:
London
Publisher/Manufacturer:
Archer
Description Of Item:
Black cylindrical lamp housing with bayonet cap for connection to mains power supply, circular rotatable disc carrying different colour filters and a horizontal slide for varying aperture size. Inscribed on the top with 'Giles-Archer Colour Unit Aviation Model'. The colour filters are identified with the letters Y, SR, SY, SG, BG, LG and DR.SEE CAT NO 1347 for instruction manual.
Historical Significance:
Lantern tests are designed to test the ability of people with abnormal colour vision to recognise signal lights and are used by rail, maritime and aviation authorities. This unit was used by Coles & Garrard a large firm of optometrists in Melbourne for industrial colour vision assessments. This lantern test was designed by George Giles, a British optometrist who was a long serving Secretary of the British Optical Association and author of a number of books on clinical optometry, copies of which are held in the Kett museum. There are two models of the Giles Archer lantern test: an aviation model (this example) and a regular model intended for clinical practice. The aviation model has 3 apertures 5 mm, 3 mm and 1 mm subtending 2.9 min arc, 34 sec arc and 17 sec arc at the test distance of 6 m. The regular model has 2 apertures. The aviation model has 8 colours ( 2 x reds, 2 yellows, 3 greens and white) while the regular model has 6. See Cole BL, Vingrys AJ. A survey and evaluation of lantern tests of color vision. Amer J Optom Physiol Optics 1982; 346-374 for more details. Cat # 571. See other lantern tests in this collection, the Edridge Green lantern cat # 430 and the Farnsworth Cat No 569.
How Acquired:
Donated by OPSM via Stephen Giacon & John McGibbony, College members
Date Acquired:
23.06.2003
Location:
Archive room. West wall. Unit 1 Drawer 1