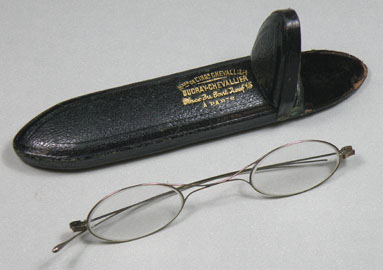 Fine rimmed 19th C spectacles in case
Category:
Spectacles and lenses
Sub-Category:
Spectacles with case
Year Of Publication/Manufacture:
c1850
Place Of Publication/Manufacture:
Paris, France
Description Of Item:
Fine steel oval eye small spectacles, straight temples glazed. Figures engraved on each lens at temporal edge. Case stamped with details: Msdm de L'INGr CHEVALLIER/ DUCRAY-CHEVALLIER/ Place du Pont Neuf 15/ A PARIS. Temple end broken; tip enclosed in case. W 11.0 cm x D 2.1 cm.
How Acquired:
Donated by David Cockburn
Condition:
Spectacles: good to fair, case: very good
Location:
Archive Office. Spectacles cabinet Drawer 10