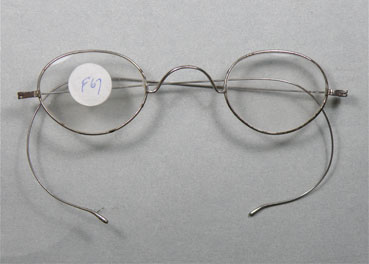 Steel 19th C spectacles, curl sides, C W Pugh
Category:
Spectacles and lenses
Sub-Category:
Spectacles (with lenses)
Year Of Publication/Manufacture:
c1895
Place Of Publication/Manufacture:
Melbourne
Publisher/Manufacturer:
C W PUGH
Description Of Item:
Small oval eye steel spectacles, possibly hand made. Curl sides saddle bridge. L temple stamped: C W PUGH R temple stamped: MELBOURNE. Glazed; R:+2.75 DS L:+2.50 DS. W 11.0cm x D 2.8 cm.
Historical Significance:
Charles William Pugh was born in London in 1853. He was the son of William Pugh (1824- 1900) who was trained as an optician and brass worker (for scientific instruments) at Dollonds, famed London opticians and scientific instrument maker since 1750. Charles Pugh, aged 23, emigrated to New Zealand in 1875 with his mother and siblings, his father having preceded the family in moving to New Zealand. William was employed by noted New Zealand jeweller and optometrist Thomas Robert Procter in 1877 (or a few years earlier), being described by Procter as 'a first class and thoroughly qualified optician (late of Dollond's London) and the only practical optician in New Zealand'. His son, Charles, was trained as an optician by his father when living and working in Christchurch, New Zealand. Charles migrated to Australia and set up practice at 13 Gertrude Street, Fitzroy about 1898, again possibly earlier. He enjoyed the patronage of the Governor of Victoria. Lord Brassey KCB. Charles died in 1902 in his 49th year. His wife continued the practice, presumably employing a qualified manager. The practice was sold in 1907 to Ernest MacFarlane (see Cat Nos. 109, 114, 1718) and continued by his son, Ken MacFarlane (see Cat. No. 1473).
How Acquired:
Donated by Mr Ken MacFarlane. Melbourne optometrist mid 20th C
Condition:
Fair; quite corroded
Location:
Archive Office. Spectacles cabinet Drawer 10