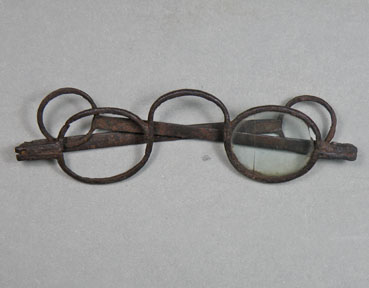 Category:
Spectacles and lenses
Sub-Category:
Spectacles (with lenses)
Year Of Publication/Manufacture:
c 1770
Time Period:
18th C and earlier
Description Of Item:
Iron spectacles c1720. Small oval eye, saddle bridge, straight sides with round loop for ribbon. One lens missing, other cracked +3.50 DS. Found in a farmhouse near Bannockburn, Scotland. W 11.1 cm x D 3.2 cm.
Historical Significance:
Probably the oldest frame in the VCO collection.
How Acquired:
Donated by C W Kett, honorary life member of the College
Condition:
Poor; one lens missing, other cracked
Location:
Archive Office. Spectacles cabinet Drawer 10