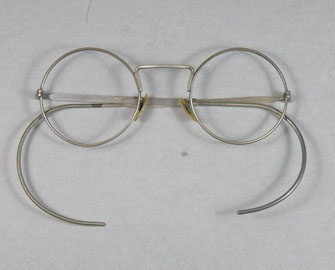 Round eye metal frame with curl sides
Category:
Spectacles and lenses
Sub-Category:
Spectacle frame
Time Period:
1900 to 1939
Description Of Item:
Nickel alloy round eye frame. Flat curl sides, pivoting nosepads. Unglazed. W: 10.6 cm x D: 4.2 cm
Historical Significance:
This style of frame was used under gas masks in the Second World War.
Location:
Archive Office. Spectacles cabinet Drawer 12