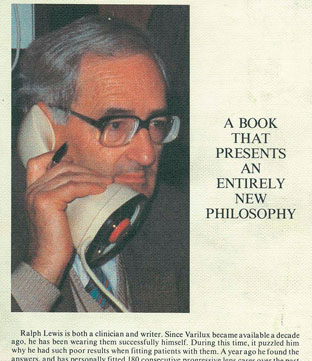 The conquest of presbyopia
Sub-Category:
Book of historical note
Year Of Publication/Manufacture:
1983
Time Period:
1940 to 1999
Place Of Publication/Manufacture:
Sydney
Publisher/Manufacturer:
R and M Lewis
Description Of Item:
Original colour illustrated cloth cover. 8vo, 111 pages. illustrated.Original owner's signature on front paste-down: W T Swordy an optical dispenser with Coles & Garrard/OPSM with expertise in fitting multifocal spectacles in their early days.
Historical Significance:
This book is self-published in Australia by its author, who was an optometrist, practising at 113 George Street, Windsor. It is an anectodal account of the author's personal experiences prescribing and fitting progressive power lenses and the techniques he developed, Progressive Power lenses were first conceived in the early 20th C. The first patent for a PAL was British Patent 15,735, granted to Owen Aves with a 1907 priority date. Aves' patent included the progressive lens design and the manufacturing process. However this was unlike modern PALs. It consisted of a conical back surface and a cylindrical front with opposing axes in order to create a power progression. This design was never commercialized, While there were several intermediate steps (H. Newbold appears to have designed a similar lens to Aves around 1913, there is evidence to suggest that Duke Elder in 1922 developed the worlds first commercially available PAL (Ultrifo) sold by "Gowlland of Montreal". This was based on an arrangement of aspherical surfaces. The modern progressive power lens starts with the Varilux lens. It was developed by Bernard Maitenaz, patented in 1953, and introduced by the Societe des Lunetiers (which later became part of Essilor) in 1959. Varilux was introduced in Australia in the late 1970s.
How Acquired:
Donated by OPSM via Stephen Giacon & John McGibbony
Date Acquired:
23.06.2003
Location:
Archive room. East wall. Books by Australian authors