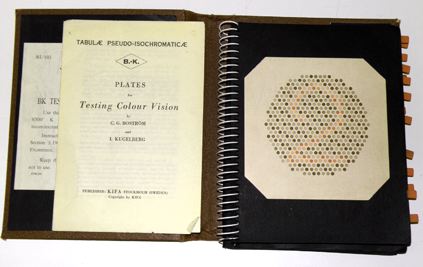 Tabulae Pseudo-isochromatic. B-K. Plates for testing colour vision
Sub-Category:
Colour Vision Test
Designer/inventor:
BOSTROM, C G, KUGELBERG I
Year Of Publication/Manufacture:
Undated. Probably 1972
Time Period:
1940 to 1999
Place Of Publication/Manufacture:
Stockholm
Publisher/Manufacturer:
KIFA
Description Of Item:
Original brown board covers, 20 coloured pseudoisochromatic plates for testing colour vision, spirex bound and inserted loose within cover boards, 4 pages of printed instructions inserted in pocket on the inside of the back cover. Paste down on inside of front cover giving short version of instructions and stating that the book is the property of the Department of Civil Aviation.
Historical Significance:
This test is one of the lesser known pseudoisochromatic tests for abnormal colour vision. It was first produced in 1944 with a second edition in 1972. It was the official test of colour vison in Sweden. This copy was used by the Australian Department of Civil Aviation in the 1970s to 1980s because the Ishihara was so well known that pilots with defective colour vision might learn the correct answers but were less likely to be able to so with this test. It was given to the College by Department of Civil Aviation when Barry Cole and Algis Vingrys were investigating aviation colour vision standards and tests for the Department. See Hedin A. A study of the new series of Bostrom-Kugelberg pseudo-isochromatic plates. Mod Probl Ophthalmol. 1974;13(0):64-6 for a validation study and references to validation studies of the first edition including that of Kugelberg in 1948.
How Acquired:
Donated by Australian Department of Civil Aviation
Location:
Archive room. West wall. Unit 1 Drawer 1