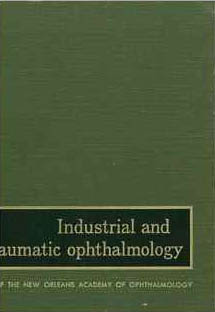 Industrial and traumatic ophthalmology: Symposium of the New Orleans Academy of Ophthalmology
Sub-Category:
Book of historical note
Editor:
KEENEY Arthur H, KUHN Hedwig S, and others
Year Of Publication/Manufacture:
1964
Time Period:
1940 to 1999
Place Of Publication/Manufacture:
St Louis
Publisher/Manufacturer:
The C V Mosby Company
Description Of Item:
Original green cloth covers, 301 pages, illustrated in black and white. 255 x 175 mm. Index. Photographs of the contributors on pages 5 and 6 including Arthur Keeney, Hedwig Kunn and Lorenz Zimmermann. List of members of the Academy and of its executive committee including four photographs
Historical Significance:
Although published as the proceedings of a symposium, which it was on February 10 to 14 1963, the symposium was planned for publication as a text book. The six authors gave 18 lectures between them systemically covering different aspects of industrial vision, including the causes, prevention and consequences of industrial accidents. Authors Keeney and Kuhn were especially well known in this field. There is special emphasis on trauma to the eye. The book stands as one of the early texts on industrial optometry/ophthalmology along with Eyes and Industry (Kuhn H 1950 Cat No 1404), Eyes in industry (Campbell DA and others 1951 Cat No. 153) and Industrial Vision (Hofstetter H 1956 Cat No 700). There was considerable interest in eye protection and in the role of vision in industrial safety among optometrists in the 1950s and 1960s.
How Acquired:
Ex Nathan Library
Condition:
Fair. Library markings and stickers. Breaking at joint.
Location:
Archive room. East wall. Books of historical note