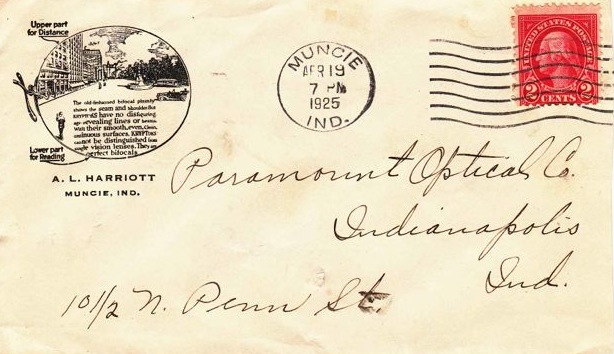 Postally used envelope advertising bifocals
Category:
Painting or other art work
Sub-Category:
Philatelic item
Practice/Business:
A. L. HARRIOTT
Year Of Publication/Manufacture:
1925
Time Period:
1900 to 1939
Place Of Publication/Manufacture:
Indiana, USA
Description Of Item:
Postal envelope, 150 x 90 mm, with cancelled 2 cent USA George Washington postage stamp. The cancellation stamp shows it was posted from Muncie, Indiana on April 19 1925. It is addressed to Paramount Optical Co in Indianapolis. The sender's name A. L. HARRIOTT is printed on the envelope and above the name is a neat illustration of the function of a bifocal lens.
How Acquired:
Purchased by Kett Optometry Museum (Ebay purchase)
Location:
Archive office. South wall. Cube 14. Stamp Album