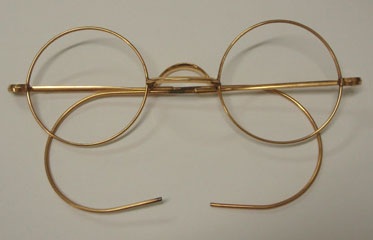 Round eye reversible spectacle frame
Category:
Spectacles and lenses
Sub-Category:
Spectacles, reversible
Year Of Publication/Manufacture:
c1930
Time Period:
1900 to 1939
Description Of Item:
Rolled gold reversible round eye spectacle frame, unglazed. Swivel bridge and revolving curl sides allow frame to be inverted. W: 11.9 cm x D: 4.1 cm
Historical Significance:
Reversible spectacles were generally for monocular use, usually with one lens for distance and the other for reading at near.
How Acquired:
Donated by Mrs Wantrup, widow of Charles Wantrup, Melbourne optometrist
Location:
Archive Office. Spectacles cabinet Drawer 7