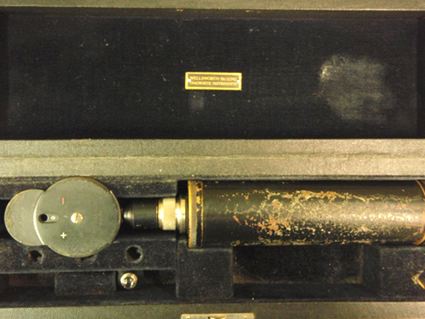 DeZeng professional ophthalmoscope
Sub-Category:
Ophthalmoscope
Designer/inventor:
DEZENG, Henry
Year Of Publication/Manufacture:
c1922
Time Period:
1900 to 1939
Place Of Publication/Manufacture:
USA
Publisher/Manufacturer:
DeZeng
Description Of Item:
Self-illuminating direct ophthalmoscope: DeZeng Professional No 130. Stamped'MADE IN USA/ PAT/ 8.31.15/ 12.21.15/ 7.18.22'. Variable illumination intensity. Alternative 'clear light' or 'diffused light' filters. Lens power range: Minus 1-6, 10,15, 20, Plus 20, 16, 12, 8, 6-0. L:22.8cm (including handle) x W: 4.2 cm. The instrument is in a case labelled ' Wellsworth-DeZeng Diagnostic Instruments. Case:L: 26.2cm x W: 8.7 cm x H: 5.9cm
Historical Significance:
Henry DeZeng was a prolific inventor of many eye and ear, nose and throat instruments but his first love was the ophthalmoscope. This is reflected in his many patents. He made the first practical electric ophthalmoscope, the first with a non-corrosive mirror, the first with illuminated lens indicating numbers and the first commercially produced ophthalmoscope with a battery contained in the handle. The list goes on, including being the first to use filters, a rheostat and standard commercial lamps. The DeZeng Company became part of American Optical in the early 1920s: Henry ended his career with a flourish, producing the Professional and the wonderfully named Knickerbocker ophthalmoscopes! The Museum holds a phorometer made by the American Optical Company (Cat # 1053) under a patent held by Henry L DeZeng. It also holds a DeZeng ophthalmoscope (Cat No 907) and a Wellsworth DeZeng retinoscope. (Cat no 908).
How Acquired:
Donated by Mrs Wadsworth, Stawell
Location:
Archive Office. Cabinet One Drawer 1