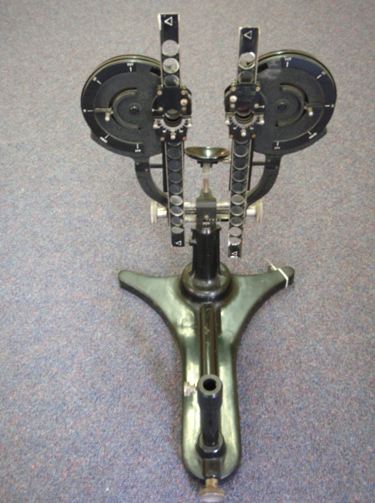 Sub-Category:
Equipment, other clinical
Year Of Publication/Manufacture:
c1926
Time Period:
1900 to 1939
Place Of Publication/Manufacture:
Mount Vernon, New York, USA
Publisher/Manufacturer:
General Optical Co Inc
Description Of Item:
Table-top instrument for measurement & treatment of disorders of binocular vision. Various prisms and lenses can be presented before each eye. Marked: 'KRATOMETER/ MADE BY/ GENERAL OPTICAL CO. INC./ MOUNT VERNON N.Y./ U.S.A./ SERIAL NO 660/ PATT. APPLD. FOR'. Metal, glass, black enamel paint finish. L: 39.0cm x W: 30.5cm x H: 45.3cm
Historical Significance:
Kratometer (kra?tom?e?ter) is a prism-refracting instrument for use in orthoptic training. See: 'The Genothalmic Kratometer, Shuron Standard Optical Co Binocular Balance' by R.M. Peckham, also the 'Modern Treatment of Binocular Imbalances with the Genothalmic Kratometer' by Ryer, LeRoy and Peckham. Shur-On Optical Co. (1928). The instrument and the book are illustrative of the enthusiasm for binocular vision in the first half of the 20th C. See Cat No 240 for the manual for this instrument. See Cat No 245 and 306 for books on the use of the Kratometer.
How Acquired:
Donated by Ernest Jabara
Location:
Archive office. East wall shelves unit 3