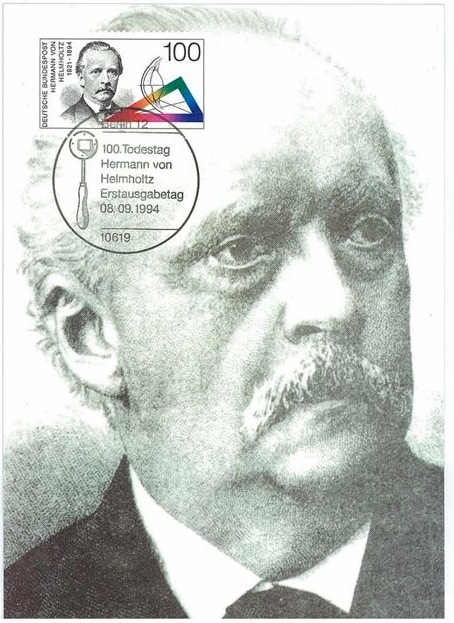 Maxicard with portrait and postage stamp for Hermann von Helmholtz
Category:
Painting or other art work
Sub-Category:
Philatelic item
Government body:
Deutsche Bundespost
Year Of Publication/Manufacture:
1994
Time Period:
1940 to 1999
Place Of Publication/Manufacture:
Germany
Publisher/Manufacturer:
Edition Maxiphil
Description Of Item:
Maxicard 148 x 107 mm, showing a monochrome portrait of Hermann von Helmholtz and a German postage stamp, denomination 100 pf, postmarked 8 September 1994, commemorating the centenary of Helmholtz' death
Historical Significance:
Herman von Helmholtz (1821 - 1894) is a towering figure in vision science. He qualified in medicine at the Berlin Medical Institute in 1843 and began researching while on military service as a physician in Potsdam. By 1858 he was Professor of Anatomy & Physiology in Bonn and after professorial appointments in Konigsberg & Heildelberg became Professor of Physics in Berlin in 1871. He is best known for his work on mathematical physics and acoustics but is also the father of vision science (See Cat Nos 84. 85, 86 for the English language edition of Helmhotz' Treatise on Physiological Optics'. He also invented the ophthalmoscope in 1851.
How Acquired:
Purchased by Kett Optometry Museum
Location:
Archive office. South wall. Cube 14. Stamp Album