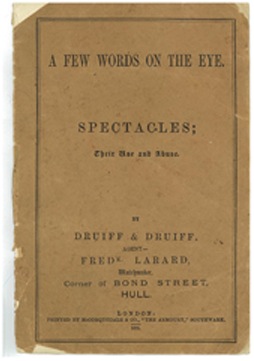 A few words on the eye, spectacles; their use and abuse
Sub-Category:
Significant book (Aitken collection)
Author:
DRUIFF and DRUIFF
Year Of Publication/Manufacture:
1875
Place Of Publication/Manufacture:
London
Publisher/Manufacturer:
Printed by McCorquodale and Co
Description Of Item:
Buff paper wrapper. 120 x 180 mm, with title on front cover, sewn binding, 6 pages and unnumbered page of test types and unnumbered page of testimonials. Back cover has an advertisement and price list for Fred K Larard, watchmaker and optician, Bond Street Hull UK
Historical Significance:
Although a very slight work, this booklet in noteworthy for being an early publication written by an optician (optometrist). It is a very rare item. Druiff and Druiff were opticians operating from 9 Union Court, Old Broad Street, London EC. The booklet is promotion for the company. There are brief notes on diseases of the eye, structure of the eye and refractive errors. There is no mention of astigmatism measured by Thomas Young 75 years earlier in 1801 and corrected by Airey 50 years earlier in 1825 . The authors promote their perioscopic lenses in preference to flat base lenses. Tinted lenses are recommended. Pantoscopic spectacles to enable the presbyopic patient to look over the reading glasses are also advocated. The test-type page is of phrases of diminishing size , each line numbered in inches as a guide to the focal length of the lenses required. A Guy E Druiff wrote on refraction and sight testing in the early 20th C, and since the name is uncommon, he may be a son or nephew of the author(s) of this booklet.
How Acquired:
Donated by Michael Aitken, honorary archivist
Condition:
Cover chipped and breaking on spine. Internal pages fairly good. FRAGILE
Location:
Archive office. Pamphlet and ephemera filing cabinet. Drawer 6