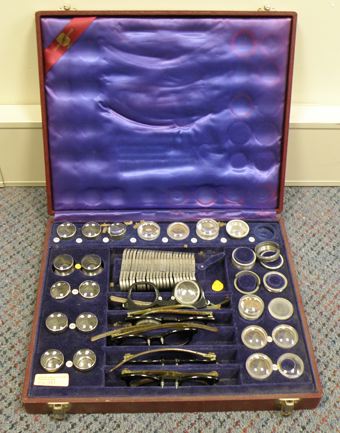 Trial set for spectacle mounted telescopic low vision magnifiers
Category:
Spectacles and lenses
Sub-Category:
Low vision aid
Corporation:
Keeler England
Year Of Publication/Manufacture:
c 1960
Time Period:
1940 to 1999
Place Of Publication/Manufacture:
London
Publisher/Manufacturer:
Keeler
Description Of Item:
Imitation leather covered box, with hinged lid, containing 14 compound magnifiers of differing design and magnification, some in pairs for binocular viewing, with trial spectacle frames and adaptors to enable the magnifiers to be mounted on or in the frame. Silk like lining of the inside of the lid with a small maroon ribbon banner in the top left corner bearing the words 'Keeler England'. The body of the case is formed to hold the various items and is covered in velvet like cloth.
Historical Significance:
This set of trial spectacle mounted low vision magnifiers was probably bought by the VCO clinic in the early 1960s. Optometry had little involvement in low vision then, even though Professor Josef Lederer had stimulated our interest in management of low vision with his Lederer lens devised in 1954 and his national seminars on low vision given at about the same time (see Alexander JA. Emeritus Professor Josef Lederer - A pioneer of low vision care. Clin Exp Optom 2001; 84: 171-174). Low vision clinics were not established in Australia until 1973. This set was designed and manufactured by Keeler in the UK. Charles Davis Keele (1876 - 1937) was born in Pemberton, New Jersey, USA,. He came to Britain to represent Standard Optical in 1905. He was accompanied by his wife and young family, including his son Charles Henry. An optical craftsman by training, Charles Davis Keeler set up Reiner & Keeler, dispensing opticians (1910-1916) in partnership with John Rayner. Then after the break-up of the partnership, he established the first C. Davis Keeler practice in the West End of London in 1917. His son, Charles Henry Keeler (1903 - 1993) was an innovator of ophthalmological and ophthalmic instruments, contact lenses, low vision aids, even veterinary equipment. He registered his first patent in 1926. Under his direction, C Davis Keeler Ltd became a national group of optical dispensing practices. He received the award of the Order of the British Empire in 1969, the year before his retirement, for his work for the partially sighted.
How Acquired:
Donated by Melbourne Optometry Clinic, VCO
Location:
Archive room. West wall. Unit 5 Drawer 2