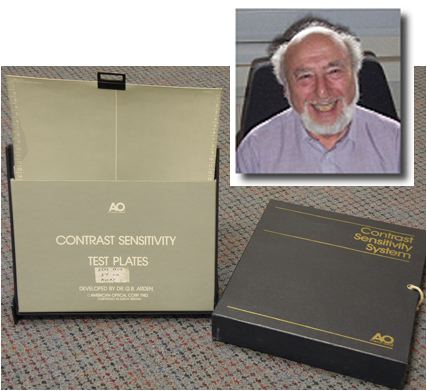 The AO Contrast Sensitivity Test Plates (Contrast Sensitivity System)
Sub-Category:
Visual Acuity, Contrast sensitivity tests
Designer/inventor:
ARDEN Geoffrey B
Year Of Publication/Manufacture:
1982
Time Period:
1940 to 1999
Publisher/Manufacturer:
American Optical Vision Care Products
Description Of Item:
Blue card box, 28.6 cm D x 34 cm H x 5 cm W, into which slides a blue heavy card folding stand with a slot containing 7 cards on which are printed gratings with a sinusoidal luminance profile that varies in contrast from top to bottom. The grating on each card varies in spatial frequency from 0.2 cycles/degree to 6.4 cycles per degree at the test test of 57 cm. A scale from 1 to 20 is printed on both left and right edges of the cards to measure the position (contrast) at which the patient is unable to see the grating. The stand also has a slot for storage of the instructions on 'How to use the AO contrast sensitivity test plates' 11 pages (inside back page is blank) with black plastic coil binding.
Historical Significance:
This test is one of several that were developed in the 1980s when it was realised that Snellen Visual Acuity measured spatial resolution only at high spatial frequencies and that some eye conditions affect the abilty to see low spatial frequncies. The test was developed to measure contrast sensitivity at various spatial frequencies so that a measure can be made of the contrast sensitivity function (CSF), that is the inverse of the threshold contrast (=sensitivity) plotted against spatial frequency. Geoffrey B. Arden (1928-) made enormous contributions at the interface of visual and clinical sciences publishing several hundred research papers in leading journals on the visual pigments (in the 1960s with RA Weale), visual receptive field properties and the ERG. He investigated contrast sensitivity losses in eye disease and developed this test for low frequency contrast sensitivity (Arden GB, Jacobson JJ. A simple grating test for contrast sensitivity: preliminary results indicate value in screening for glaucoma. Invest Ophthalmol Vis Sci. 1978 Jan;17(1):23-32). He worked in the Institute of Ophthalmology, London and for the closing 13 or so years of his career was Professor of Ophthalmology in the Department of Optometry and Visual Science at City University London. He established the first UK clinic devoted to ocular electrophysiology and developed the first colour vision tests based on computer generated patterns on TV screens. He is a former editor in chief of Vision Research. He was made an honorary fellow of the Royal College of Ophthalmologists in 2008.
How Acquired:
Donated by Melbourne Optometry Clinic, VCO
Location:
Archive room. West wall. Unit 4 Drawer 3