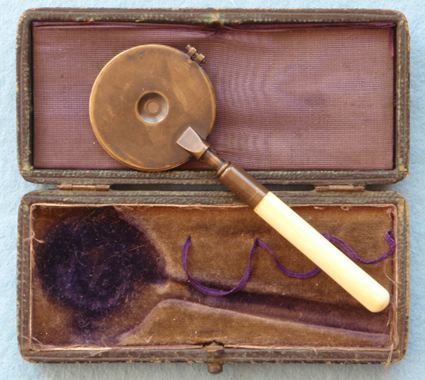 Sub-Category:
Ophthalmoscope
Designer/inventor:
Richard Liebreich
Year Of Publication/Manufacture:
c1860
Place Of Publication/Manufacture:
Germany
Description Of Item:
Cased simple Liebreich ophthalmoscope, non illuminated. Concave mirror with central sight hole. Brass head, bone handle. This example is missing its Coccius clip & has no auxilliary lenses or condensing lenses. Leatherette case stamped in gold lettering: OPHTHALMOSCOPE LIEBREICH. L: 10.2 cm x W: 3.8cm. Case:L:10.9 cm x W:5.0cm x D: 2.2 cm
Historical Significance:
A number of early ophthalmoscopes, such as those of Coccius (1853), Wilhelm von Zehender (1854) and Richard Liebreich (1855), used separate individual lenses to correct an out of focus ophthalmoscopic image. These were inconvenient and took time to change. In 1852 Egbert Rekoss added 2 rotatable discs of lenses to Helmholtz's original 1851 instrument. Rekoss discs are still used in direct ophthalmoscopes today.
Condition:
Good but missing lenses
Location:
Archive Office. Cabinet One Drawer 8