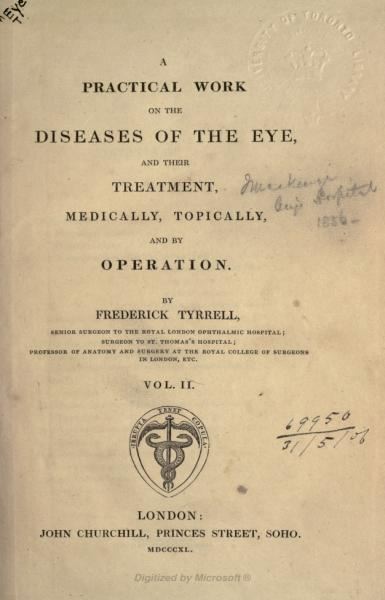 Practical work on the diseases of the eye, and their treatment, medically, topically, and by operation.
Sub-Category:
Significant book (Aitken collection)
Author:
TYRRELL Frederick
Year Of Publication/Manufacture:
1840
Place Of Publication/Manufacture:
London
Publisher/Manufacturer:
John Churchill
Description Of Item:
An unmatched set of two volumes. Vol 1 8vo Original maroon cloth cover, 533 pages preceded by 16 pages of book advertisements. Five chromolithographic plates numbered 1, 2, 3, 4, 7 and 8 as called for by text. Bookplate of early owner Frank E BurchLargely unopened. Vol 2 8vo Original green cloth, xii preliminaries, 3 unnumbered chromolithographic plates 4, 5 and 6 as called for in text, plus one uncoloured plate of instruments. Book sticker of early owner Dr Elsner.
Historical Significance:
Frederick Tyrrell (1793? or 1800 -1843) was an apprentice under his uncle the English Surgeon Sir Astley Paston Cooper (1768-1841). In 1819 he went for one year to Edinburgh for further studies. In 1820 he became an assistant surgeon in the London Infirmary for Diseases of the Eye, and in 1822 surgeon in St. Thomas's Hospital. From 1825 he taught anatomy and surgery at the Aldersgate School, later at St. Thomas and the Royal College of Surgeons. He died suddenly in 1843, aged 43 (53?)years. Tyrrell was a member of the College of Surgeons 1816, and of its Council 1838. His uncle, Sir Astley Paston Cooper, 1st Baronet was an English surgeon and anatomist, who made historical contributions to otology, vascular surgery, the anatomy and pathology of the mammary glands and testicles, and the pathology and surgery of hernia. The 8 chromolithographic plates show external eye diseaes and cataract and are the work of the great lithographer CHARLES HULLMANDEL (1780-1850) who was born in London of a German father and French mother. He travelled widely in Europe making drawings and paintings of the places he visited. In 1817, he met the inventor of the lithographic process, Senefelder, in Munich; the following year he established a lithographic press at his home in Great Marlborough Street, from where he continued to produce prints until his death. He was one of the most significant figures in the development of lithography in the first half of the nineteenth century and his treatise The Art of Drawing on Stone (1824) was an essential manual of the art. He refined the lithographic process, developing a method for producing graduations in tones and creating the effect of soft washes of colour
How Acquired:
Donated by Michael Aitken, honorary archivist
Location:
Nathan Library. Aitken collection