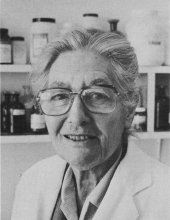 Sub-Category:
Book of historical note
Author:
PIRIE Antoinette, Van HEYNINGEN Ruth
Year Of Publication/Manufacture:
1956
Time Period:
1940 to 1999
Place Of Publication/Manufacture:
Oxford
Publisher/Manufacturer:
Blackwell Scientific Publications
Description Of Item:
Original blue cloth cover, 323 pages, illustrated with black and white photographs and diagrams. Old ACO library stamp and stickers
Historical Significance:
Pirie also wrote The science of seeing (with Ida Mann) 1950. (See Cat No 593) Diabetes and the eye (with F I Caird and TG Ramsell) (See Cat No 500) and Blindness in malnourished children. She also researched and wrote on nuclear fall-out. Antoinette ("Tony") Pirie (1905-1991) worked in the Nuffield Laboratory of Ophthalmology at Oxford University. She sustained two interests, one as a biochemist and the other as an educator, working on malnutrition, both pursuing the prevention of blinding eye disease. At the outbreak of World War 2 she was seconded to work on the responses of the eye to war gases. After the war she joined Ida Mann (see Cat No 593 and 996) as a research assistant at the then newly-built Nuffield Laboratory of Ophthalmology, where they worked on the problems of ocular development, metabolism and toxicology. In 1946 they wrote "The Science of Seeing" partly to refute Aldous Huxley's 'pernicious" book The Art of Seeing. In 1947 Pirie became reader in ophthalmology and was elected to a professorial fellowship at Somerville College. Her later research was directed almost exclusively to the lens and cataract. She made fundamental discoveries in the areas of lens metabolism, enzymes and lens proteins. She was the first to characterise vitreous collagen. Many of her studies were concerned with the characterisation of lens crystallins and the changes in crystallins occurring in cataract. She was fascinated by vitamins and their importance in eye tissues. She was one of the leaders actively involved in seeking ways to prevent and alleviate vitamin A deficiency in developing countries.
How Acquired:
Ex Nathan Library
Location:
Archive room. East wall. Books of historical note