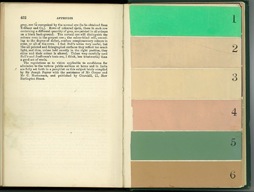 The students guide to diseases of the eye
Sub-Category:
Book of historical note
Author:
NETTLESHIP Edward
Year Of Publication/Manufacture:
1887
Place Of Publication/Manufacture:
London
Publisher/Manufacturer:
J and A Churchill
Description Of Item:
Original green cloth cover, gold stamped title on front, 448 pages and 16 unnumbered pages of book advertisements. 160 figures in text and 3 colour charts which were to be used for testing colour vision. One set is pictured. There is a section of colour vision testing in the Appendix p430 preceding these colour plates.
Historical Significance:
The Museum also holds the third edition. Cat No 298. Edward Nettleship FRCS FRS (1845-1913) is described in JAMA 1970;214:751-2 as a veterinarian, dermatologist, ophthalmologist and geneticist. He was a prolific writer and has 2 syndromes bearing his name. He had an interest in colour vision. He was to be a farmer and attended the Royal Agricultural College at Cirencester and the Royal Veterinary College. He obtained a licentiate of the London Society of Apothecaries before studying medicine. He was ophthalmic surgeon at St. Thomas's Hospital for 2 decades and had a large private practice in Wimpole Street. He was inspector of poor schools and worked on incidence of eye disease and ophthalmia, which led to parliamentary reforms.
How Acquired:
Donated by Peter O'Connor (Warrandyte)
Condition:
Fair. Breaking in fronts. Colour plates repaired
Location:
Archive room. East wall. Books of historical note