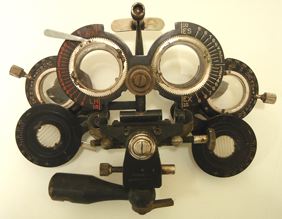 Sub-Category:
Refractor Phoropter Phorometer
Year Of Publication/Manufacture:
c1931
Time Period:
1900 to 1939
Place Of Publication/Manufacture:
USA
Publisher/Manufacturer:
American Optical Co
Description Of Item:
Stand model trial frame elaborated with rotary prisms, Maddox Rods and Stevens Phorometer. Adjustable PD & level. Metal, glass, black painted finish. Imprinted: PAT'S 1423091 1794571 MADE IN U.S.A W: 23.0 cm x H: 15.5 cm. See Cat Item 550, for a later instruction booklet for the AO Phorometer
Historical Significance:
Patent 1423091 refers to a patent for the rotary prisms incorporated in this device. The patent was granted to Henry L DeZeng of Moorestown, New Jersey on July 18 1922. Patent 1794571 refers to a patent for a system of adjusting the pupillary distance and level of a complex trial frame. The patent was granted to William J Wrighton & Edgar D Tillyer of Southbridge, Massachusetts and assigned to the American Optical Company of Southbridge, Massachusetts, on March 3, 1931. Henry DeZeng was a prolific inventor of many eye and ear, nose and throat instruments but his first love was the ophthalmoscope. This is reflected in his many patents. He made the first practical electric ophthalmoscope, the first with a non-corrosive mirror, the first with illuminated lens indicating numbers and the first commercially produced ophthalmoscope with a battery contained in the handle. The list goes on, including being the first to use filters, a rheostat and standard commercial lamps. The DeZeng Company became part of American Optical in the early 1920s: Henry ended his career with a flourish, producing the Professional and the wonderfully named Knickerbocker ophthalmoscopes! A second copy is catalogued at # 479. The Museum holds a phorometer made by the American Optical Company (Cat # 1053) under a patent held by Henry L DeZeng. It also holds a DeZeng ophthalmoscope (Cat No 907) and a Wellsworth DeZeng retinoscope. (Cat no 908).
Condition:
Good, some corrosion
Location:
Archive room. West wall. Unit 3 Drawer 5