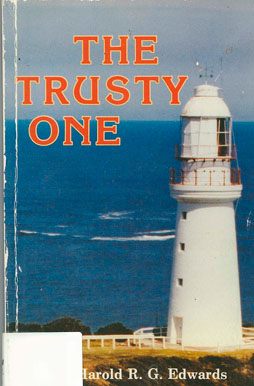 Sub-Category:
Hewett collection
Author:
EDWARDS, Harold R G
Year Of Publication/Manufacture:
1985
Time Period:
1940 to 1999
Place Of Publication/Manufacture:
Slacks Creek Queensland
Publisher/Manufacturer:
Assembly Press
Description Of Item:
Paperback, printed colour illustrated (Otway lighthouse) front cover, covered with clear plastic, 127 pages, colour photo of the author on the outside of the back cover, numerous black and white photographs in text. Authors inscription in ink front fly leaf 'Dr Barry Cole 18-10-1991 Best wishes Harold RG Edwards'
Historical Significance:
Harold Edwards (1896-1998) was an early Australian optometrist. He served in World War 1 after which he became an optometrist. He earned Fellowship of the Victorian Optical Association in 1921. He was a President of the Victorian Optical Association 1943-1944, 1950-1951, 1957-1959. He was born in Bendigo, where his father was a watchmaker. He practised optometry in Bendigo and moved to Melbourne in 1936. He is known for being the soldier who pulled the dead 'Red Baron' Baron von Richthofen from his wrecked aircraft on April 21 1918, the story of which is reported in this book. The family have an association with Talbot, a small gold rush town in western Victoria. It has a museum in which there are items to do with the Edwards family and optometry. The museum's main exhibit is the Edwards collection. It is well worth a visit. See http://www.ballarat.com/talbot/talbot_museum.htm. This book is his autobiography and parts of it deal with his life as an optometrist and there are several illustrations to do with optometry (See page 101) but it is an idiosyncratic book as much about his religion, lodge, and family as optometry.
How Acquired:
Donated by Donated by Barry Cole. Originally gifted to him by the author
Location:
Nathan Library. Hewett collection