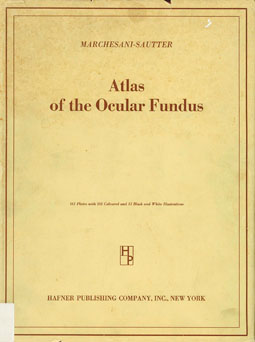 Atlas of the ocular fundus
Sub-Category:
Hewett collection
Author:
MARCHESANI, Oswald and SAUTTER, Hans
Year Of Publication/Manufacture:
1959
Time Period:
1940 to 1999
Place Of Publication/Manufacture:
New York
Publisher/Manufacturer:
Hafner Publishing Company Inc
Description Of Item:
Folio size, cream printed wrapper, burgundy cloth covers, 161 coloured plates with 262 coloured and 13 black and white illustrations of ocular fundus drawings, with descriptive notes on each plate in English, French and Spanish on facing pages, xii preliminaries setting out the contents. Translated by A Philipp
Historical Significance:
Originally published in 1957 in German under the title Atlas des Augenhintergrundes. Oswald Marchesan was a German ophthalmologist, born 1900, Schwaz, Tirol; died 1952, Kiel. Associated eponyms: Gronblad-Strandberg syndrome and Weill-Marchesani syndrome. He was the son of an attorney in Schwas in the Tyrol, then a part of Austria-Hungary, but spent his boyhood in Bozen (Bolzano). He studied medicine in Innsbruck and Freiburg, receiving his doctorate from the University of Innsbruck in 1923. He worked for four years as an assistant in the university eye clinic, Innsbruck, before he went to Munich to work with professor Karl Wessely (1874-?). In 1936 he became professor of ophthalmology in Munster. After the Second World War he moved to the chair in Hamburg, where he remained until his death. Marchesani's particular field of interest was in the anatomy and histology of developmental defects of the eye, and for many years was occupied with the problem of sympathetic ophthalmia.
How Acquired:
Donated by Dr David Cockburn, honorary life member of the College
Condition:
Very good, wrapper slightly torn at edges
Location:
Nathan Library. Hewett collection