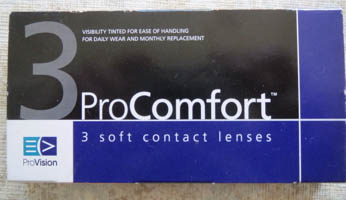 ProComfort disposable soft contact lenses Box of 3
Category:
Spectacles and lenses
Sub-Category:
Contact lenses and accessories
Corporation:
Ocular Sciences Ltd.
Year Of Publication/Manufacture:
c 1990
Time Period:
1940 to 1999
Place Of Publication/Manufacture:
Southampton, U.K.
Publisher/Manufacturer:
Ocular Sciences Ltd.
Description Of Item:
Purple, black and white cardboard box 130 x 66 x 14 mm with the words ProComfort, 3 Soft contact lenses and Provision logo on the face. Contents: 3 individually packaged monthly disposable, daily wear soft contact lenses of 55% water 45% ocufilcon D composition in 0.9% saline. Expiry date on box 2005/01
Historical Significance:
ProComfort was a label exclusively used by ProVision Eyecare and supplied to members of ProVision. The lenses were marketed to other optometrists under the Biomedics Evolution label by Ocular Sciences Ltd. ProVision, originally known as Australia's Independent Optometrists (aio) is an organisation promoted by Optometrists Association Australia to support independent optometrists in all aspects of practice management and supplies.
Condition:
Good, some wear on top edges
Location:
Archive room. West wall. Unit 6 Drawer 2