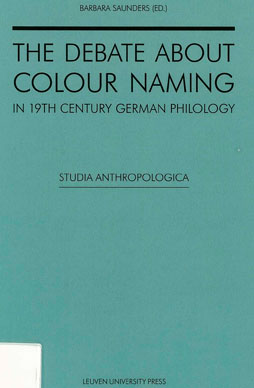 The debate about colour naming in 19th C German Philology
Sub-Category:
Hewett collection
Editor:
SAUNDERS Barbara (Translated by Ida-Theresia Marth)
Year Of Publication/Manufacture:
2007
Place Of Publication/Manufacture:
Leuven, Belgium
Publisher/Manufacturer:
Leuven Universal Press
Description Of Item:
Paperback, 199 pages. Introduction by B Saunders. 11 Chapters being translations from German of papers published in journals and books between 1877 to 1883
Historical Significance:
The book provides source material originally published in German in the 19thC dealing with evolutiion of colour naming in literate and non-literate societies. The Greeks despite their high level of civilisation had a limited vocabulary for colours.
How Acquired:
Purchased by Kett Museum ( Abe Books Approx $60)
Location:
Nathan Library. Hewett collection