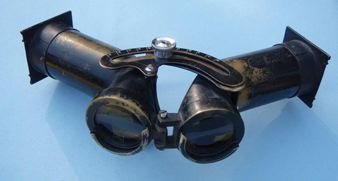 Sub-Category:
Synoptophore, stereoscope
Designer/inventor:
Claud Worth
Year Of Publication/Manufacture:
c1920
Time Period:
1900 to 1939
Place Of Publication/Manufacture:
United Kingdom
Description Of Item:
Black painted brass instrument, consisting of 2 tubes hinged at the apex with a chromed wheel to adjust the angle between the two eyepieces. Two slide holders for targets. Fenestrated bar with scale to show angle of horizontal deviation. Another chrome wheel to alter vertical deviation. Single cell lens holder at each eyepiece. W: 23.0 cm x D: 10.0 cm x H: 8.3 cm
Historical Significance:
This instrument was designed by Claud Worth (1869-1936), a London based ophthalmologist, who contributed greatly to the theoretical understanding of strabismus & its surgical correction. He started the first orthoptics clinic at Moorfields Hospital. It is based on an earlier similar device called 'fusion tubes' invented by Priestly-Smith in 1896. Black added the vertical adjustment in 1906. The instrument was used for orthoptic treatment of binocular vision disorders. The patient views targets at the end of each tube seen at optical infinity through the eyepiece lenses. Mirrors inside the tubes enable the tubes to be bent so that the angle between the two tubes can be varied over a wide range. Varying this angle changes the demand on convergence of the eyes.
Condition:
Fair-good, much wear to paint
Location:
Archive room. West wall. Unit 3 Drawer 2