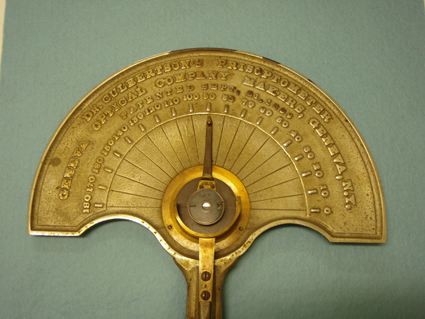 Dr Culbertson's Prisoptometer
Designer/inventor:
H Culbertson
Year Of Publication/Manufacture:
c1886
Place Of Publication/Manufacture:
Geneva, New York, USA
Publisher/Manufacturer:
The Geneva Optical Company
Description Of Item:
Made of cast iron, steel, brass & glass. Imprinted DR CULBERTSON'S PRISOPTOMETER/ GENEVA OPTICAL COMPANY MAKERS, GENEVA, N.Y./ PATENTED SEPT, 21, 1886. Stamped 853 on eyepiece & lens mounting. L: 55cm x W: 21cm
Historical Significance:
This is an early optometer based on a unique principle. The instrument contains a prism which could be rotated, and was used to view a disc or object circle. The prism caused monocular doubling of the object circle and the separation of the two images varied as the prism rotated, depending on the astigmatism present. The axis of the astigmatism was indicated by the prisoptometer and trial lenses were used to determine the magnitude of the spherical and cylindrical refractive error. See catalogue No 202 and 570 for other examples of the same kind of optometer and further historical information.
How Acquired:
Donated by Pamela Sutton, honorary archivist
Location:
Archive room. West wall. Unit 4 Drawer 5