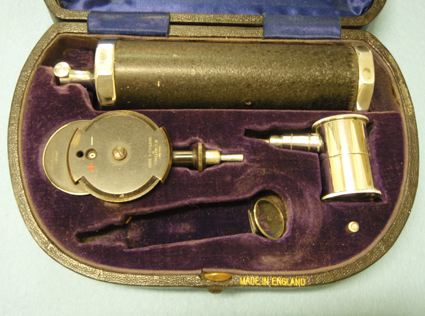 May ophthalmoscope, cased
Sub-Category:
Ophthalmoscope
Designer/inventor:
Charles H May
Year Of Publication/Manufacture:
c1930
Time Period:
1900 to 1939
Place Of Publication/Manufacture:
England
Publisher/Manufacturer:
Gowllands Ltd
Description Of Item:
Self illuminating ophthalmoscope. Black battery handle with metal cap. White sliding on-off switch. Black metal head with prism reflector & revolving lens disc. Stamped 'PAT 358766/MAY OPHTHALMOSCOPE Improved/MADE IN ENGLAND/by GOWLLANDS Ltd/CROYDON'. Cased with battery handle,reflector only of retinoscope, other magnifying system and spare globe. Black leatherette-covered wooden case with purple lining & metal snap catch. Case:W:19.5cm x D:13.0cm x H:5.0cm
Historical Significance:
May designed this improved ophthalmoscope in 1915. The improvement was to the illuminating optics. See May C H The May Electric ophthalmoscope. Trans Am Ophthal Soc 1915; 14: 165-167. Charles Henry May (1861-1943) was a New York ophthalmologist who wrote 'May's Manual of Diseases of the Eye for students and practitioners' first published 1900 and which ran to 22 American Editions and many other editions in other countries and languages. See his obituary Snyder C Arch Ophthal 1961 142-1943.
Location:
Archive Office. Cabinet One Drawer 11