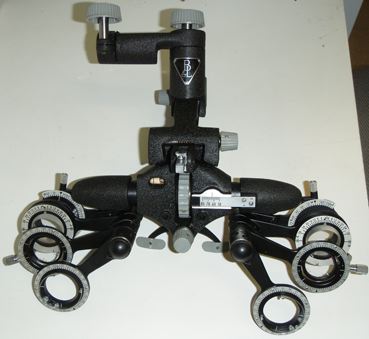 Bausch and Lomb Phorometer
Sub-Category:
Refractor Phoropter Phorometer
Corporation:
Bausch and Lomb
Year Of Publication/Manufacture:
c 1943
Time Period:
1940 to 1999
Place Of Publication/Manufacture:
Rochester New York
Publisher/Manufacturer:
Bausch and Lomb
Description Of Item:
Phorometer, black crackle finish with grey plastic adjustment knobs. Clamp arm for mounting on an instrument stand and anterior/posterior axis adjustment slide. Holder for near point card. Adjustable PD, forehead rest, and level (with spirit bubble). Jackson cross cylinder, Risley prism, two clip trial lens holders with axis, one with rotating handle mounted for each eye. Identified with label 'Bausch & Lomb Rochester New York USA, USA Patent 2,337,898' Copy of patent is in Archive Office. Pamphlet and ephemera filing cabinet Drawer 2 Cat No 1189
Historical Significance:
Most examples of phorometers are older than this item since the phorometer preceded the full refractor head, first made in the early 1930s, which have discs carrying sphere and cylindrical lenses as well as items for investigation of binocular vision. This example can be dated circa 1943, since the patent for it is dated 28 Dec 1943. The Bausch and Lomb Greens refractor head was well established by this date. This phorometer, which 60 years later still looks modern, was probably designed for those optometrists who preferred trial frame refraction but also wanted a modern look and the convenience of Risley prisms and Jackson Cross cylinders mounted on the instrument. Bausch and Lomb paid for the transport of this item from Sydney to Melbourne.
How Acquired:
Donated by Rob Kaye, NSW optometrist and former member and Fellow of the College
Date Acquired:
April 2009
Location:
Archive room. West wall. Unit 3 Drawer 5