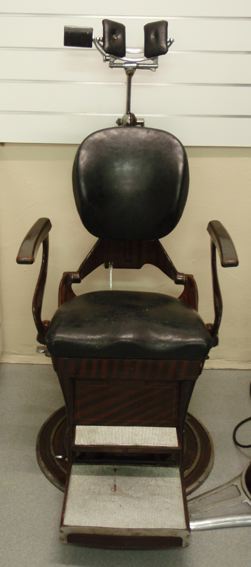 Hydraulic ophthalmic chair
Sub-Category:
Furniture incl instrument stands
Year Of Publication/Manufacture:
c 1935
Time Period:
1900 to 1939
Description Of Item:
Hydraulic ophthalmic chair, brown imitation wood enamel finish, leather upholstered seat and back, hydraulic adjustable height, tilt mechanism and rotatable, adjustable back and head rest. Foot rest with fold out foot rest for children.
Historical Significance:
This chair may have been made by Bausch and Lomb in the late 1930s since it was acquired by the donor, Mr Rob Kaye,t ogether with a Bausch and Lomb hydraulic instrument stand (Cat No 1192) from an antique shop. It is possible that the chair and stand were bought at the same time from the one supplier. It also looks the same as the chair illustrated in the advertising poster for Mr Occleshaw (Cat No 689) in which the acquisition of a Bausch and Lomb Greens refractor is announced. This item was donated by Rob Kaye in memory of his daughter Mandi Karen Kaye 31 Oct 1964 - 12 July 1996 who trained and worked in Melbourne as a Special Education Teacher. Bausch and Lomb paid for the transport of this item from Sydney to Melbourne.
How Acquired:
Donated by Rob Kaye, NSW optometrist and former member and Fellow of the College
Date Acquired:
April 2009
Condition:
Good but leather upholstery worn
Location:
Archive room. Free standing on floor