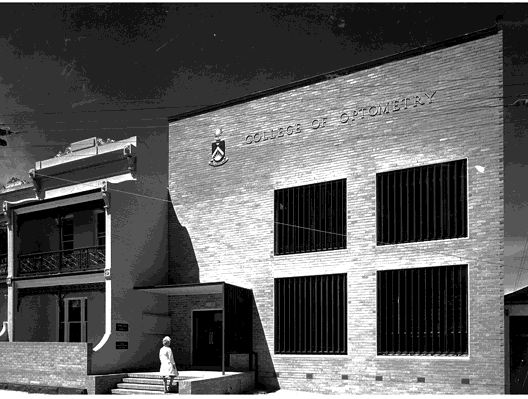 The Victorian College of Optometry building, 1960
Sub-Category:
Photograph Buildings
Photographer:
Mark Strizic
Year Of Publication/Manufacture:
1960
Time Period:
1940 to 1999
Place Of Publication/Manufacture:
Carlton
Publisher/Manufacturer:
Mark Strizic,
Description Of Item:
Black and white photograph of the Victorian College of Optometry, 24.4 x 19.7 cm, depicting its appearance in Cardigan Street in 1960. Stamped on the back 'Marc Strizic Architectural and industrial photographer. Photography 12 Francis Street Richmond 42-3471 Ref No' In pencil ref 46.1160
Historical Significance:
The VCO occupied its new building in 1960. It was officially opened on October 20th 1960. The State government made a grant of 32,000 pounds ($64,000) and a 8000 pound grant ($16,000) for equipping it in 1959. The 1960 balance sheet discloses the value of the property to be 46,693 pounds ($93.386). At this stage the College owned only the brick building and the adjoining terrace house. It was a bleak building even though designed by John and Phyllis Murphy, architects for the 1956 Olympic swimming pool. The orginal design for a 2 story building was better but lower than expected tenders lead to the hurried addition of another floor.
How Acquired:
Record of VCO
Condition:
Fair. Remains of adhesive tape on back
Location:
Archive office. Pamphlet and ephemera filing cabinet. Drawer 2