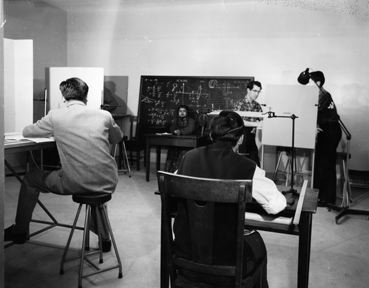 Student practical laboratory in the Victorian College of Optometry1960
Sub-Category:
Photograph Buildings
Year Of Publication/Manufacture:
1960
Time Period:
1940 to 1999
Place Of Publication/Manufacture:
Melbourne
Publisher/Manufacturer:
Les Gorrie Photography 3 Kathleen St Pascoe Vale
Description Of Item:
Black and white photograph 24.3 x 19.2 cm of the student practical laboratory of the College in 1960 with five students. Velcro tape on back at corners. Name of photographer on back
Historical Significance:
This is the student physiological optics and optics practical laboratory in the College building in 1960 at the time the College occupied its new building in Cardigan Street moving from its rented premises in Collins Street. It was located on the second floor of the 1960 building on the SW side. The person standing and looking to the right is Stan Elwood. The others are unidentified Practical classes in optics and physiological optics were introduced in 1959 when Barry Cole was appointed the first full-time lecturer.
How Acquired:
Record of VCO
Condition:
Fair. Tear on bottom edge
Location:
Archive office. South wall. Cube 5 Album 2