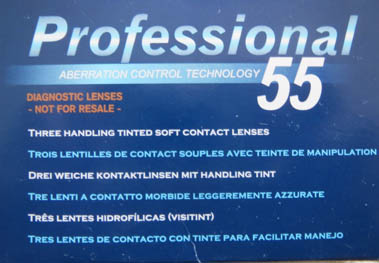 Professional 55 Disposable Contact Lenses Diagnostic Pack
Category:
Spectacles and lenses
Sub-Category:
Contact lenses and accessories
Corporation:
Ultravision International Capricornia
Year Of Publication/Manufacture:
c2000
Publisher/Manufacturer:
Ultravision International (Aust) Pty Ltd
Description Of Item:
Blue cardboard Box 100 x 70 x 15 mm with the words Professional 55 Aberration Control Technology, Diagnostic Lenses not for resale and Three Handling Tinted Soft Contact Lenses on the face. The last phrase is repeated in five other languages. Contains two blister packs of contact lenses marked 8.6 +3.00 14.3. Material 45% Filcon 1b. One of the original lenses has been used for diagnostic purposes. Expiry date 2006/05 on label affixed to back of box,
Historical Significance:
Professional 55 was a series of disposable soft contact lenses marketed by Ultravision Capricornia until c2002. The 55 refers to the water content of the hydrophilic polymer of 55%. Although the packaging suggests the origin to be Springwood, Queensland it is most likely that the lenses were imported labelled for Ultravision International (Aust) Pty Ltd from their Singapore plant.
Condition:
Good. Seal has been cut to allow removal of one lens
Location:
Archive room. West wall. Unit 6 Drawer 2