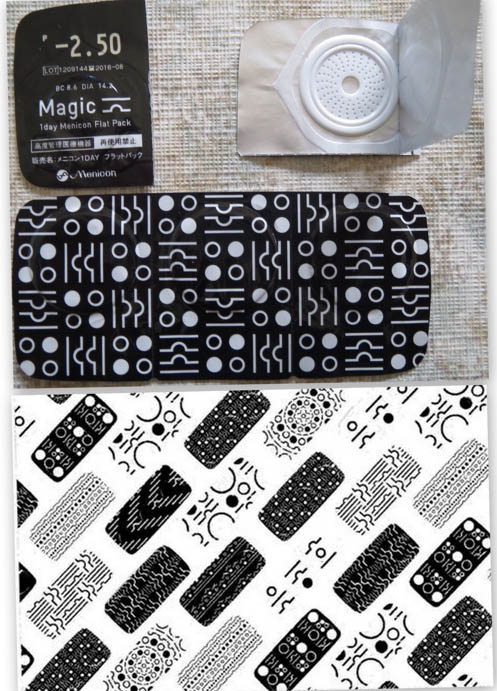 Magic One Day Contact Lenses
Category:
Spectacles and lenses
Sub-Category:
Contact lenses and accessories
Corporation:
Menicon Co. Ltd, Nagoya, Japan
Year Of Publication/Manufacture:
2001
Place Of Publication/Manufacture:
Japan
Publisher/Manufacturer:
Menicon Co. Ltd
Description Of Item:
Two individual contact lens containers 42 mm x 31 mm x 1 mm with the word Magic and contact lens parameters on the face. Expiry date 2016/08 One container has been opened and the contact lens removed revealing the storage method of the lenses- a white plastic disc on which the lens is presented ready for insertion. The reverse is printed with one of the ten abstract designs created for this product. These designs are illustrated in the image below.
Historical Significance:
Released in Japan in November 2001 the Magic daily disposable contact lenses introduced a new packaging design developed by Steve Newman. The lens is contained in a 1 mm thick pack and when opened the lens is presented with the outer surface face up to ensure correct insertion. The lenses were supplied in boxes containing 10 strips of three lenses in a more compact form than any other disposable contact lens.
How Acquired:
Donated by Colin Bates
Location:
Archive Office. Cabinet One Drawer 16