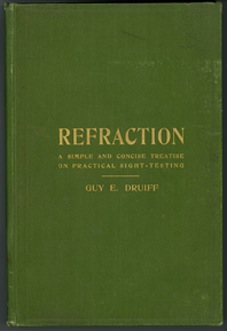 Refraction: a simple and concise treatise on practical sight-testing
Sub-Category:
Significant book (Aitken collection)
Year Of Publication/Manufacture:
1902
Time Period:
1900 to 1939
Place Of Publication/Manufacture:
London
Publisher/Manufacturer:
Anglo-American Optical Company
Description Of Item:
Original green cloth cover, 250 x 165 mm, with gilt stamped lettering, 300 pages plus 4 unnumbered pages of advertisements. Index and glossary. Eighty-eight black and white figures in text. Name of the previous owner RM Ford on front paste down.
Historical Significance:
This is the first edition of a basic but very comprehensive optometric textbook written by an optometrist at the beginning of the 20th C. It is one of the first 'modern' optometry textbooks. Although it is now not well known it was influential in the UK, going to three editions, one of which was published in the USA. The Kett Museum holds the 3rd edition 1907 (Cat No. 1327). It was written to support an early optometry course offered by the Anglo-American Optical Company at a time when intending optometrists had to teach themselves or find a tutor or a private course to help them prepare for the examinations for Fellowship of the British Optical Association or the Spectacle Makers Company. The book was unfavourably reviewed in Br Med J 1 : 1326 doi: 10.1136/bmj.1.2214.1326 (Published 6 June 1903). There is another book (Cat No. 2372) published in 1875 by two authors named Druiff, one of whom may be the author of this book or an older relative.
How Acquired:
Donated by Michael Aitken, honorary life member of the College
Condition:
Good except for mild foxing
Location:
Nathan Library. Aitken collection