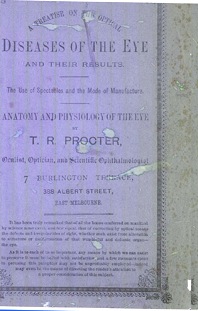 A treatise on the optical diseases of the eye and their results. The use of spectacles and their mode of manufacture. Anatomy and physiology of the eye
Author:
PROCTER Thomas Robert
Year Of Publication/Manufacture:
Undated 1890 ?
Place Of Publication/Manufacture:
Melbourne
Publisher/Manufacturer:
T Smith and Co Printers Ltd
Description Of Item:
Photocopied mock-up of the original booklet, 142 x 202 mm. mauve paper covers, 20 pages, 20 black and white illustrations in text.
Historical Significance:
The author, Thomas R Procter, styles himself on the front cover of this booklet as 'Oculist, optician, and scientific ophthalmologist'. He does not claim medical or any other formal qualifications in the booklet but the text suggests he was primarily an optician, but one above the ordinary (p 16), and seems to consider himself as a consulting optician rather than a working spectacle-making optician, although he implies that he is well 'acquainted with the manufacture of lenses and spectacle frames'. p 16. The booklet covers (1) the anatomy and physiology of the eye (2) accommodation (3) optical defects of the eye (which the author categorises as diseases of the eye) including astigmatism (4) presbyopia (5) squint (strabismus) (5) anisometropia (6) photophobia (7) the manufacture and defects of spectacle lenses. The booklet is replete with testimonials and laudatory articles published in newspapers mostly dated 1881 to 1885. The back cover reports that he exhibited in the International Exhibition in Wellington in 1885 for which his exhibit won first prize and also in the Melbourne Centennial Exhibition in 1888/1889 where he won a first order of merit. It is clear from the testimonials that Procter had worked in New Zealand and the booklet states on the back cover that he has a branch in New Zealand at 123 Manchester Street Christchurch. His address at the time the booklet was published was 7 Burlington Terrace 388 Albert Street East Melbourne. The booklet is of interest in that the author clearly prided himself in managing difficult cases including eye muscle disorders and nystagmus as well as complex refractive errors and that he engaged in treating inflamed and granulous eyes with ointments (See case reports page 19), See Cat No. 2773 for a spectacle case in his name and for more information about Procter. He was the first sight-testing optician in New Zealand
How Acquired:
Donated by Michael Aitken, honorary archivist
Date Acquired:
April 2014
Location:
Archive office. Pamphlet and ephemera filing cabinet. Drawer 6