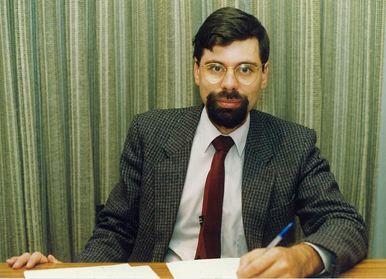 Sub-Category:
Photograph People and events
Year Of Publication/Manufacture:
c 1989
Time Period:
1940 to 1999
Place Of Publication/Manufacture:
Melbourne
Description Of Item:
Two colour photographs 159 x 100 mm of Daryl Guest, senior optometrist in the VCO Clinic
Historical Significance:
Daryl Guest was a staff optometrist in the VCO Clinic from 1986 to 1995 and was appointed Deputy Clinic Administrator in 1993. He served on the College Council for several years and was a highly respected clinical leader and teacher. He was an important leader in the development of clinical services provided by the VCO through community health centres. He resigned in July 1995 to enter private practice in Tasmania where he continued to offer clinical leadership by exploring the boundaries of optometric practice, especially therapeutics and neuro-ophthalmology and as a continuing education lecturer in most States of Australia. He was President of the Tasmanian OAA and prominent in the successful campaign to obtain therapeutic drug prescribing rights for optometrists. He also served as chairman of the Optometry Council of Australia and New Zealand.
How Acquired:
Record of VCO
Location:
Archive office. South wall. Cube 5 Album 3