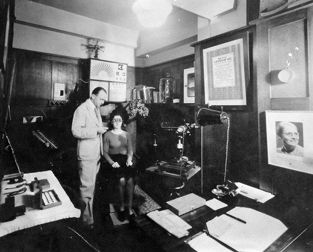 Consulting room of Ernst Goetz in Collins Street Melbourne, Australia
Sub-Category:
Photograph People and events
Year Of Publication/Manufacture:
c 1930
Time Period:
1900 to 1939
Place Of Publication/Manufacture:
Melbourne
Description Of Item:
Digital image of a black and white photograph 937 x 740 pixels 300 dpi of the consulting room of Melbourne optometrist, Ernst Goetz.
Historical Significance:
Ernst Goetz (1903-1979) was a Melbourne optometrist who practised in Collins Street Melbourne. He was born in Swizterland and studied optometry in Jena, Germany, obtaining his Masters certificate in optometry and his diplom-optiker in 1924. He migrated to Australia and practised optometry in Collins Street Melbourne from 1926 with Alfred Nott. He subsquently purchased the practice. He was probably the first Australian optometrist to fit contact lenses and first to prescribe telescopic low vision aids. He had learned about both during his studies in Jena, the town in which Carl Zeiss was located. Zeiss pioneered both contact lens manusfacture and low vision aids. See his profile by Gartner WF Ernst Goetz 1903-1979 Clin Exp Optom 2008; 91:588-570, which is on this web site under the tab 'People who made history'.
Location:
Archive computer iPhoto